The grounding of Business Class
Covid-19 and the global mobility workforce
Sgier + Partner supports international companies among others, who for example undertake projects locally at their clients' premises and send their specialists around the globe. They often form entire project teams, consisting of designated specialists from all over the world. The cleverest people are brought together, to solve or carry out their assignments on-site. This can involve deployments lasting a matter of days, but also weeks or months.
Long-term secondments have now become international transfers, where an employee receives a local employment contract in the host country. This is where our services are required: international transfers need precise answers to complex subjects such as work and residence permits, relocation services, entry requirements, tax and social insurance law. Specialisation, cost factors, but also the lack of skilled labour everywhere require the recruitment of premium specialists worldwide.
Suddenly almost everything is at a standstill
However, since Covid-19 almost every border is closed. Authorities are now granting new work and residence permits only for special sectors (above all in the healthcare industry, medicine, and research). Otherwise only extensions are being approved. The "mobile workforce" has become immobile overnight. Aircraft are grounded; international trains are stopping at the borders. Companies have suspended or postponed their projects. Planning certainty has been replaced by chaos. No one currently knows how and when things will start moving again.
The consequences for our industry
This is striking at the very heart of our core business. Sgier + Partner as a service-provider of immigration services (management of work and residence permits), relocation services (guided orientation tours, accommodation, searches for apartments/houses, settling-in services, advice/visits to international schools, contract management, official visits to authorities and intercultural training courses) and tax consulting for ex-pats does everything to ensure a stress-free transfer of staff for their secondment to Switzerland. During the last five years, we have managed over 10,000 work and residence permits and more than 1,000 relocation cases. The consequences of Covid-19: our industry is almost at a standstill.
Naturally, we are supporting, informing, and advising our clients and partners. Many HR departments are feeling extremely unsettled and have numerous justified questions. We are there to answer them. If necessary, we accompany our clients (e.g. to visit authorities, view accommodation, etc.). We continually comply with hygiene regulations. We offer a London taxi with a partitioning screen or even a stretch-limousine for accompanied trips.
Our message: We respect physical d i s t a n c i n g.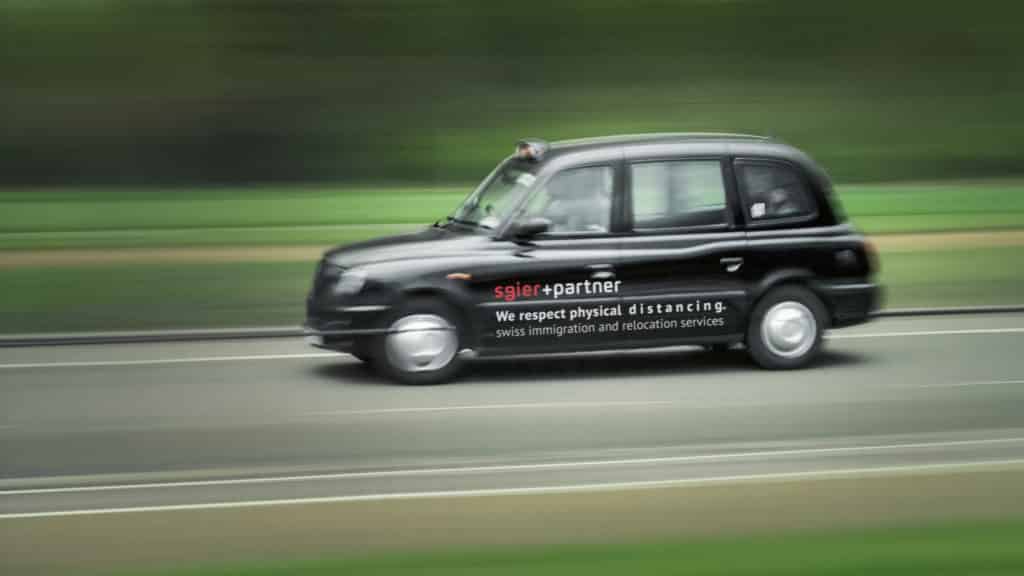 This shock and the sudden change to our business world, which I call the «grounding of Business Class» for travel, hotels, the catering trade and event industry, has prompted me to reflect on things. How will the world of work change during and above all after Covid-19? I am convinced that the crisis will have a fundamental impact on people and their mobility – on the way in which they travel, work, and consume.
Our mobility is making us tired
Let's have a critical look at how air travel has increased over the last few years. This growth is an example of many areas of life and demonstrates our dilemma: everything is increasing on planet Earth; mobility, consumption, population, profits, air pollution, etc. Only one thing is not growing at the same pace: The Earth itself. Air traffic has almost tripled globally since 1990 and continues to grow by five percent annually. Every day over 200,000 planes fly from one airport to another worldwide. Never before have there been as many passengers: according to the International Civil Aviation Organization (ICAO), 4.3 billion people flew worldwide in 2019. That's more than half of the global population (2020: 7.8 billion). The number of kilometres flown per passenger rose by 6.7 percent and reached approximately 8.2 billion kilometres by plane. No sensible person can believe that this development is healthy. It's threatening to spiral out of control. Now Covid-19 arrives, and suddenly hardly anything is possible any more. Oil is becoming a junk commodity because only a fraction of it is being used.
The international world of work after Covid-19
Lockdown, the enormous limitation of our freedom of movement and the quasi-shutdown of many businesses – yes there has been a massive impact on entire sectors of the world's economy. Planning certainty, a fundamental aspect of every business, no longer exists for many companies. They are being required to be extremely agile and flexible. The consequences can currently not yet be assessed. Different or completely new forms of collaboration are now being considered and are already being experienced. The digital industry is already one of the winners of this crisis. Over the last few years, its relationship to users has featured scandals such as monopolism, data misuse, manipulation or tax avoidance and increasing mistrust. All that is currently fading into the background because we are now seeing how information technology helps to manage the threat to our lives from the virus. And in the world of work, there is a huge demand for working from home and collaborative solutions, which are also being implemented successfully. Surprisingly the digital infrastructure has so far worked fairly reliably around the world. Working from home is suddenly on everyone's lips.
Working from home is more than protecting the climate
What is the status of working from home in Switzerland? In 2018 about a quarter of staff worked from home at least occasionally. The myclimate climate protection foundation has developed a calculation formula. Their figures sound promising: if 450,000 people worked from home instead of in the office once every week, they would drive about 4.5 million fewer kilometres per week in their cars and travel 2.6 million fewer kilometres by public transport. This would mean savings of CO2 of 1,400 tonnes per week. One consequence of the current Covid-19 pandemic might be that many companies rethink their attitude to working at home not only in the short term. Are we finally experiencing a change from quantity (Monday to Friday, 9-5) to quality (deadlines, flexible hours, digital teams)? Are we experiencing a new personalised working culture? I'm convinced: most people are more productive when they work from home and after the crisis, there will be a mixed form of working at home and in an office. Companies will quickly learn from the experiences of Covid-19. Working at home will now become the normal form of work for even more people. Perhaps through quota shares between working at home and in the office?
Working at home will shake up a lot of things
In addition, if working at home is undertaken consistently, it will have a major effect on costs. Consistently does not mean one day of working at home every now and then, but at least three days per week. Companies could then very easily appoint highly qualified staff, even if they are not prepared to move for the job. This is because other costs will cease to exist, or will be reduced dramatically. Anyone who previously needed 1,000m2 of office space will be able to cope with one-third of that. Business trips, company cars, meetings, seminars? Many things indicate that we will also be able to make do with 40 – 50 percent of our current mobility. Less time spent traveling to work will mean a better quality of life and social sustainability for these people. Commuter flows at most like those over holiday periods, or even less than that. Families will spend more time together, single people will be able to manage their social relationships better, leisure time will increase, without reducing hours of work.
The cards are being dealt differently
Working at home and the reduced daily mass mobility also has enormous potential when looking at climate change. The pulling power of urban centres, the insane creation of office space would be sharply reduced by more people working from home. Excessively large offices would lose ground to spaces for housing or leisure. Infrastructure costs could be saved and the lower prices and profits could be balanced out. Once could imagine that half of the offices in traditional office towns could become affordable housing! In addition, the lower traffic levels would lead to improved air quality and less noise. At first glance this decentralisation of the world of work would also lead to clear losers: complete sectors of industry such as airlines, catering, the hotel trade, event and trade fair organisers depend on the conventional business model.
As usual, here what applies to change is that not everything has to be new, but many things need to be reconsidered. Anyone who wants to have things the way they were before, will not take pleasure in seeing anything positive from a rethink.
Stay grounded, keep connected
An example of a long-term rethink is being provided by ETH Zurich. It has committed itself to sustainability not only in teaching and research, but also in its way of working and mobility. More than half of the greenhouse gas emissions (GHG) of the ETH with its 11,000 employees are caused by business travel. Of this, in turn approximately 93% of the emissions are accounted for by air travel, the rest by car trips (approx. 5%) and journeys by rail (approx. 2 %). A clear reduction in greenhouse gases for air travel through technical developments is currently not likely. It would occur only with a change in travel behaviour. With its project called «CO2- reduction and air travel» the ETH defined a clear target in spring 2017: aircraft emissions will fall by an average of 11% by 2025 compared with the average in 2016–2018.
How many crises can we still afford?
The Covid-19 epidemic is a catastrophe throughout the world, which will leave its mark for a long time. However, the crisis is also an opportunity to rethink our rules that have become stuck in a rut and learn for the future. The time has come for reflection in practically all sectors. We have to change. We now have a real opportunity, both from an ecological and also an economic and social perspective to act more sustainably. «Growth by hook or by crook» is over. Instead of globalisation, we need a «glo-balanc-ing». The crisis will cost billions. Yet the climate crisis, which no one is talking about any longer, will have a greater impact on humanity than the virus. We all know that the climate crisis has been taking place for a long time, only very, very slowly. The Covid-19 crisis can be a salutary shot across the bows. For all of us. This is because change must come from the bottom and from everyone. If we use this opportunity, it might save us.
Working at home will change the world
Companies, everyday working life, business mobility, consumption, leisure time, social life and climate change will not be what they were previously after Covid-19.
The future is knocking on the door: less office space, reduced mobility, less traffic, lower CO2, more individualised working, greater self-responsibility, more sustainability, a better work-life balance – these are only a few of the opportunities arising from the crisis.