Invitation to the Update Sessions
Topic: Work and residence permits
In the difficult environment of politics and economics. Are you informed in detail about
the Agreement on the Free Movement of Persons and its additional protocols?
the significance and possible impacts of the popular initiative aimed at stopping mass immigration?
the consequences of quota reductions for EU- and Non-EU-citizens?
what will be the impact of the Brexit and Corona?
the impact of the stronger Swiss Franc on minimum salaries and on the applications for work permits?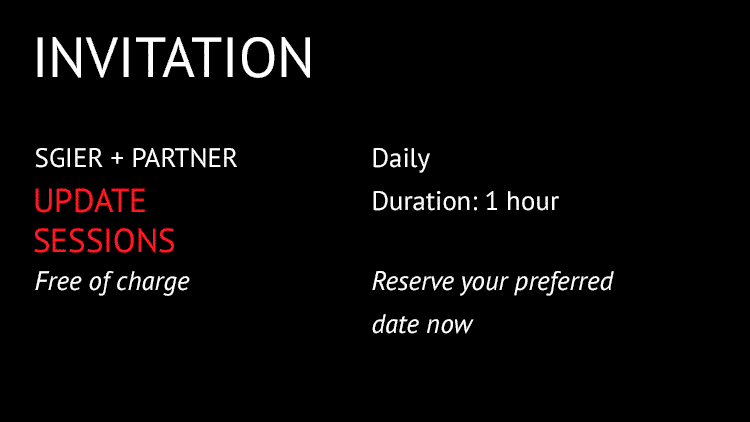 Custom made educational modules in the areas of employment law, labour law, social security and corporate law – the most efficient way to gain knowledge.
The schooling modules developed according to the needs of HR staff by Sgier + Partner in the area of employment law, work and residence permits, social security lawa and corporate law grant an efficient transfer of knowledge as well as the practical use of the information in daily business life. We are also able to come to your offices and organise workshops, trainings or update sessions.
You choose from the three module types (Basics, intensive and update module) and decide upon the content of the instruction. The rest we will organise for you, including the establishment and delivery of relevant documentation.
Have we awakened your interest?
Ask your questions exclusively to our Immigration team, consisting of lawyers and work permit specialists – we will give you qualified answers.
Daily, Duration 1 hour, free of charge.
Reserve your preferred date:
Phone: +41 44 228 78 90