Our credo is quality in all we do.
The most distinguished consulting firms, over 10 Banks and over 20 top Software and IT companies as well as many further clients trust us when it comes to the management of work and residence permits. When can we meet?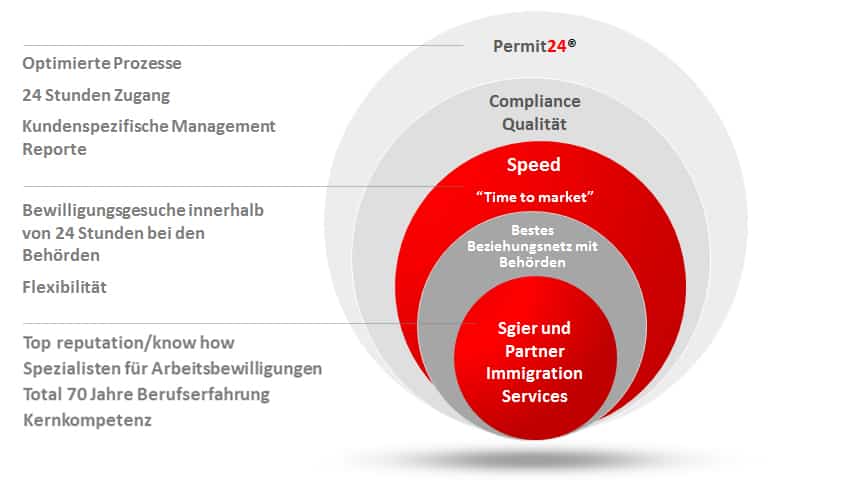 We are the immigration specialists
Our team of specialists brings together over 70 years of practical experience in work permit management. The team is made up of experienced immigration specialists, legal staff and lawyers. Between them, the team members can communicate in ten languages. The basis and ethos of our work is quality, compliance, reliability and proactive engagement.
Ms. Antonia Sgier leads the team. She has previously worked at the cantonal labour authority in Zurich for many years, examining and approving work permit applications. With over 26 years' worth of practical experience she has exceptional know-how and a considerable network among administrative officials.
A highly motivated team awaits you.
Services from one provider
Immigration services, relocation services, company settlements as well as the full specturm of complentary services. Developed and implemented by cross – disciplinary teams.
Leading
Resources for firstclass services in terms of quality and quantity – any time.
Connected and competent
Experienced and connected employees in the service of the Client.
Owner run
Independant Swiss company with a national and international outlook, run by the owners – a guarantee for a high personal commitment.
Swiss and international
Sgier + Partner is active throughout Switzerland. In addition, the company is connected by partnership with leading immigration and relocation companies in international markets.
Experienced
Due to the extensive experience the immigration and relocation services have been finetuned.
Successful
Swiss market leader in the area of immigration services as well as experienced partner in the combination with relocation and complementary Services.
Thinking ahead and innovative
The continual orientation of our work according to "best practice" standards guarantees the client modern, unexpected and efficient immigration and relocation Service solutions. With our own developed "Permit24®" and "Relo24®" software we have provided innovations that bring added value to our Clients.