Permit24® – the most efficient way to obtain swiss work permits
Permit24® is a web-based software solution developed by Sgier + Partner which optimises and speeds up the permit process and enables clients a valuable tool for tracking the process as well as the validity of the Permits. Full transparency, detailed reports and 24/7 online access are the core of this programme.
Permit24® contains the collected experience which Sgier + Partner has amassed since the foundation of the company. Thanks to the automated "follow up flags" the end-to-end process can be monitored better and thus the process sped up.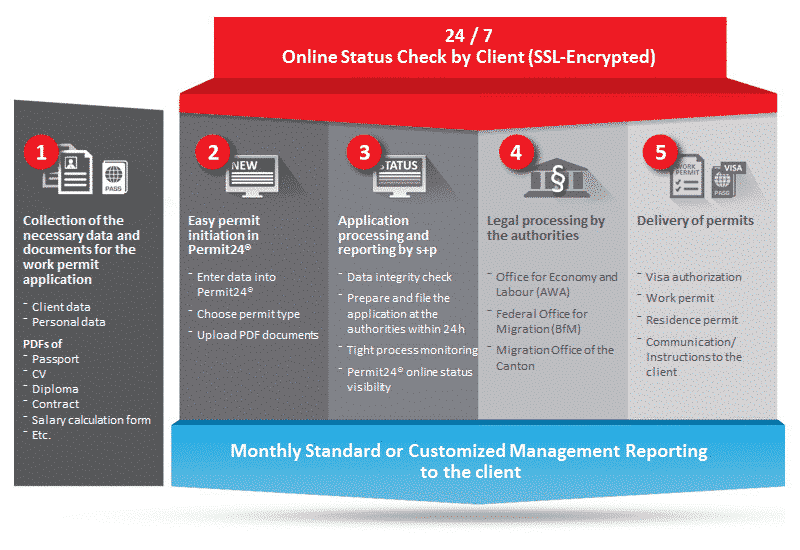 In addition to this the client can initiate the order individually by entering the necessary personal data and the information regarding the requested permit type as well as upload the relevant documentation such as resumé, passport copy, diplomas etc. Within seconds the uploaded order and documentation can be accessed and treated by the Sgier + Partner Team. The permit application is sent to the authorities within 24 hours. The Client can track the further process of the application in Permit24®. This enables better planning and the employee is able to start work in Switzerland on time. Time to market is thus fulfilled. At the end of the month, or as specified by the client, Permit24® delivers the relevant management data in power point format.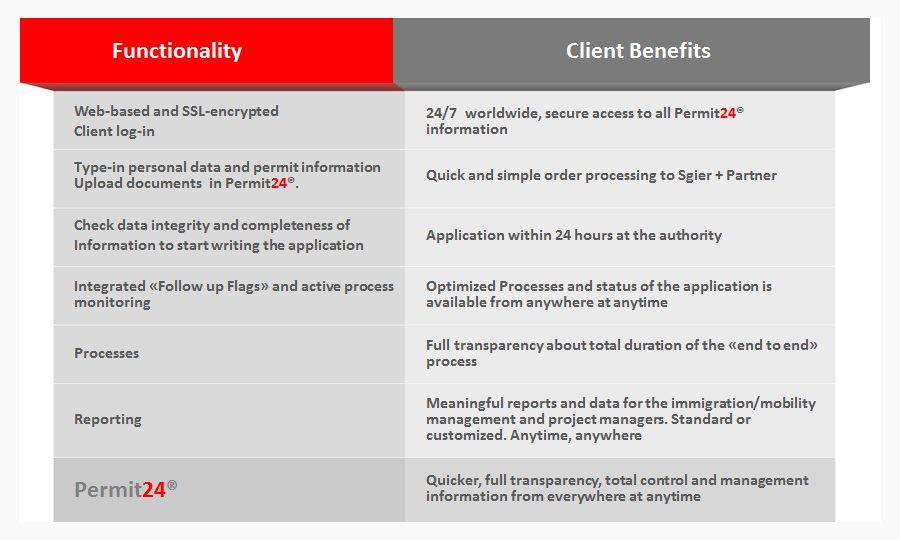 We will gladly show you the advantages of a complete Immigration Services Outsourcing with Permit24®, from the analysis of your current situation to the functioning setup. Find out how to save on the costs, relieve your HR department and still retain complete control and transparency. We will show you how the «end-to-end» business is accelerated through our approach and your employees can start work in Switzerland sooner. The «total cost of services» will convince you. Get in touch with us, the consultation is free of charge.
With Permit24® your permit application is with the authorities within 24 hours.